AFSCME's Got Talent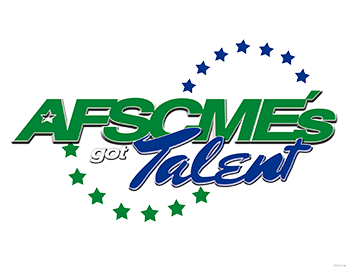 AFSCME's Got Talent Is Back….and Better!!
AFSCME's Got Talent returns for its second International Convention run, this time adding lip syncing to the karaoke repertoire as a competition to raise money for AFSCME PEOPLE.
So, brush off those blue suede shoes…warm up your vocal chords…express yourself and compete in AFSCME's Got Talent II, The Karaoke & Lip Sync Competition, the premier PEOPLE fundraiser of the 42nd AFSCME International Convention in Las Vegas!
Start raising PEOPLE dollars now by downloading as many AGT pledge forms as you like and collecting pledges from your AFSCME co-workers, delegates and family members.
Convention delegates and alternates who wish to compete will raise pledges pre-convention and during convention week for the opportunity to perform in a final competition.
Five (5) contestants/acts raising the most PEOPLE dollars by close of the AGT stage on Wednesday, July 20 will compete for the grand prize on Thursday after the Convention recess in the Convention Hall.
Karaoke competitors can choose from a song list of hundreds of thousands, while lip syncing contestants should bring their song on a USB compatible thumb drive to plug in to the computer. Schedule times throughout the week to perform on the AGT mini stage, where you can drum up more support and add to your fundraising totals. Wear costumes and use props to enhance your imitations! There is a 4-person limit per act!
Delegates will be invited to stay after Convention recesses on Thursday, July 21 to "judge" the competition by voting for their favorite act with PEOPLE dollars. Collection boxes for each of the 5 final acts will be placed by the stage so the audience can deposit money for their favorite act. The contestant/act raising the most money from the finals audience is the grand prize winner and will perform on the Convention stage Friday morning prior to adjournment.
The Grand Prize winner/act will receive a 2-night hotel stay in any Hyatt or Hilton in the contiguous United States, subject to availability.
Contributions or gifts to AFSCME PEOPLE are not deductible for federal income tax purposes. All contributions to AFSCME PEOPLE are voluntary and will be used for political purposes. Contributions are not a condition of membership or employment and refusal to contribute is free of reprisal. In accordance with federal law, AFSCME PEOPLE accepts contributions only from AFSCME members, executive and administrative personnel, and their families. Contributions from other persons will be returned.